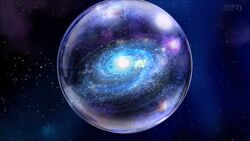 The Universe, Our Universe (我々の宇宙, Wareware no Uchū), is the set of dimensions where we live. It is commonly known as the totality of everything that exists, containing the Galaxies, planets and suns.
The Universe has many dimensions such as Ledger Domain and the Null Void as well as many alternate timelines called Crosstimes.
As noted by Professor Paradox in "The Forge of Creation", many other universes also exist, with different physics from ours, just outside of our own.
The Map of Infinity
Edit
The Map of Infinity is a complete map of space-time extending through seventeen dimensions. Anyone who has the Map can travel anywhere, including outside the Universe and the Forge of Creation: a nebula in which the reality-warping species know as Celestialsapiens are born.
Known Galaxies
Edit
There are about 80 billion galaxies discovered by humans.
Known Dimensions
Edit
Alternate Realities
Edit
Timelines
Edit
Ad blocker interference detected!
Wikia is a free-to-use site that makes money from advertising. We have a modified experience for viewers using ad blockers

Wikia is not accessible if you've made further modifications. Remove the custom ad blocker rule(s) and the page will load as expected.