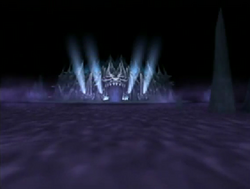 The Underdrome (冥界コロシアム Meikai Koroshiamu, lit. "Underworld Coliseum") is the Underworld counterpart of the Olympus Coliseum. It is where all tournaments are fought in Kingdom Hearts II.
Once closed down and locked up by Zeus due to the senseless violence, it was reopened when Sora opened the lock during his first visit to Olympus Coliseum. Hades knew Sora would 'play hero' and save Megara so that the Underdrome would be reopened. Hades then decided to use the Underdrome to pit Auron and Hercules against each other much like he wished to do with Cloud in Kingdom Hearts.
Tournaments
Edit
The Underdrome hosts eight tournemants in all; four regular cups, and four "Paradox" cups that can only be entered by talking to Hades; the first three Paradox cups are merely reruns of their normal counterparts, except that the opponents have been empowered, while the final Hades Paradox Cup is a lengthy tournament taking elements from all previous cups.
Pain and Panic Cup
Cerberus Cup
Titan Cup
Goddess of Fate Cup
Pain and Panic Paradox Cup
Cerberus Paradox Cup
Titan Paradox Cup
Hades Paradox Cup
Ad blocker interference detected!
Wikia is a free-to-use site that makes money from advertising. We have a modified experience for viewers using ad blockers

Wikia is not accessible if you've made further modifications. Remove the custom ad blocker rule(s) and the page will load as expected.