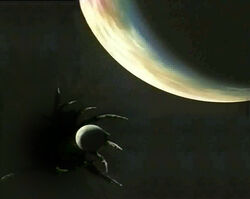 Triton, also known as Neptune I, is the biggest natural satellite of the outer planet, Neptune. Triton was discovered on October 10, 1846 by the astronomer William Lassell.
Surface Features
Edit
The surface of Triton is slightly smooth, with some craters located through this Neptunian object.
Transformers: UniverseEdit
Ad blocker interference detected!
Wikia is a free-to-use site that makes money from advertising. We have a modified experience for viewers using ad blockers

Wikia is not accessible if you've made further modifications. Remove the custom ad blocker rule(s) and the page will load as expected.