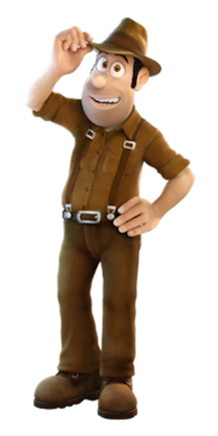 Thaddeus "Tad" Stones is the main protagonist of the Spanish-American film Tad, The Lost Explorer. He is voiced in English by Kerry Shale.
Tad is a celebrity archaeologist and adventurer just like his hero Max Mordon... in his dreams! In reality, Tad is a Chicago construction worker. One day, however, he is mistaken for a real Professor and takes his place on to Peru in search of the Lost City of Paititi. Professor Lavrof and his beautiful daughter Sara are waiting for the famous professor to crack the code. Tad, Sara and Freddy take the brave journey to find the idol. However, Sara is engaged to real-life hero Max Mordon, but Max has secretly betrayed the Professor by teaming up with the evil Kopponen and his shady Odysseus corporation.
Eventually Max obtains the idol, only to discover that it's power of immortality turns him into a mummy.
At the end, Tad & Sara kiss.
In Tad's passaport, his birthday is April 25th and born in 1977, 36 years of age.
Ad blocker interference detected!
Wikia is a free-to-use site that makes money from advertising. We have a modified experience for viewers using ad blockers

Wikia is not accessible if you've made further modifications. Remove the custom ad blocker rule(s) and the page will load as expected.