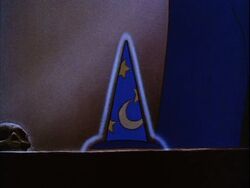 The Sorcerer Hat is the magical item and source to most of Yen Sid and Mickey Mouse's powers. The hat is for magical use and with it can be very powerful. In the wrong hands, the hat can be a deadly weapon as well as very dangerous and life threatening.
Appearances
Edit
In the animated film, the sorcerer hat makes its first appearance. While Yen Sid is asleep, Mickey uses the hat to cast a spell on a broom so that it may do the chores for him.
In "Mickey and Minnie's Big Vacation", Mickey dons the hat to wash the flooded club.
In Mickey's House of Villains, Mickey uses the hat to battle Jafar during the climax. Jafar knocked the hat off of Mickey's head, but Aladdin comes to the rescue and gives Mickey the lamp which sucked Jafar in.
In the episodes "The Friendship Team" the hat's design was put in the form of a party hat as homage to Mickey's first feature.
Here, Donald Duck accidentally loses the hat and goes on an adventure to get it back.
Main article: The Sorcerer's Hat (Disney's Hollywood Studios)
A giant replica of the Sorcerer's Hat was built in 2001 and has since served as the symbol of the park.
In a scene after the credits, the hat is seen in the room where Horvath picks up his own hat.
In the episode entitled Skin Deep, Yen Sid's magic hat can be seen as but one of many objects in Rumpelstiltskin's castle, including a candlabra paired with a clock, a black oil lamp, Gepetto's parents in puppet form and many more.
Ad blocker interference detected!
Wikia is a free-to-use site that makes money from advertising. We have a modified experience for viewers using ad blockers

Wikia is not accessible if you've made further modifications. Remove the custom ad blocker rule(s) and the page will load as expected.