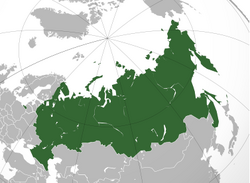 Russia also officially known as the Russian Federation (Russian: Российская Федерация, tr. Rossiyskaya Federatsiya, is a country in northern Eurasia. It is a federal semi-presidential republic, comprising 83 federal subjects.
From northwest to southeast, Russia shares borders with Norway, Finland, Estonia, Latvia, Lithuania and Poland (both via Kaliningrad Oblast), Belarus, Ukraine, Georgia, Azerbaijan, Kazakhstan, China, Mongolia, and North Korea. It also has maritime borders with Japan by the Sea of Okhotsk, and the US state of Alaska by the Bering Strait. At 17,075,400 square kilometers (6,592,800 sq mi), Russia is the largest country in the world, covering more than one eighth of the Earth's inhabited land area. Russia is also the eighth most populous nation with nearly 143 million people as of 2010. Extending across the whole of northern Asia and most of eastern Europe, Russia spans nine time zones and incorporates a wide range of environments and landforms. Russia has the world's largest reserves of mineral and energy resources and is the largest producer of oil and natural gas globally. Russia has the world's largest forest reserves and its lakes contain approximately one-quarter of the world's fresh water.
Cities and Locations
Edit
Actors and Crew born in Russia
Edit
Ad blocker interference detected!
Wikia is a free-to-use site that makes money from advertising. We have a modified experience for viewers using ad blockers

Wikia is not accessible if you've made further modifications. Remove the custom ad blocker rule(s) and the page will load as expected.