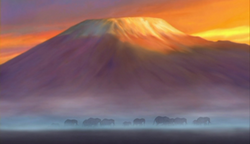 Mount Kilimanjaro is the highest mountain in Africa. It is a prominent feature of The Lion King franchise.
Appearances
Edit
It is seen during the opening sequence of Circle of Life. A herd of elephants are walking past it.
Mount Kilimanjaro is expanded in the episode "To Kilimanjaro Bird." A mother eagle built a nest on the mountain for herself and her son Baby Earl, making it their home. When she gets mad at Timon for stealing Baby Earl's bowl of grubs, Mother Eagle makes him and Pumbaa babysit her son while she flies to the lowlands to find more bugs. Mount Kilimanjaro can be seen in some other episodes of the series.
It is seen during the opening sequence of He Lives in You and is later mentioned in the song Upendi.
Ad blocker interference detected!
Wikia is a free-to-use site that makes money from advertising. We have a modified experience for viewers using ad blockers

Wikia is not accessible if you've made further modifications. Remove the custom ad blocker rule(s) and the page will load as expected.