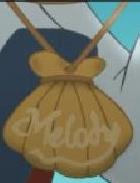 Melody's locket is a gift to her from her grandfather King Triton.
Description
Edit
It is engraved with her name and resembles a golden scallop with a chain for the necklace. When opened, the locket shines a bubble that shows an image of Atlantica and a mermaid and merman swimming around it.
In the movie
Edit
During Melody's presentation ceremony, King Triton came to give Melody the locket as a gift, representing her connection to both worlds. But before she could given the present, the party is interrupted by Morgana. After a few close calls, Ariel decides that Melody must never know about her heritage in order to be protected from Morgana. King Triton begrudgingly agrees and drops the locket into the ocean floor.
For the next twelve years, the locket remained under the reef near Eric's castle, half buried in sand, and undisturbed until the day Melody rediscovered it while swimming for seashells.
After a disastrous dinner party is crashed by Sebastian, Melody hides up in her room and gives the locket a closer inspection, discovering that her name is written on it. She then runs away from home to understand the meaning of the locket, and the answers to her true heritage.
Later in the film, she loses the locket while trying to steal the trident from her grandfather's palace. Ariel takes the locket, realizing that Melody must have taken the trident, and rushes after her. Eventually, Melody gets the locket back by the end of the film.
Ad blocker interference detected!
Wikia is a free-to-use site that makes money from advertising. We have a modified experience for viewers using ad blockers

Wikia is not accessible if you've made further modifications. Remove the custom ad blocker rule(s) and the page will load as expected.