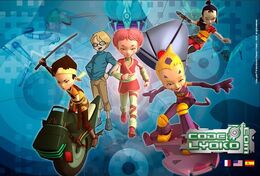 The Lyoko Warriors (also referred to as "Team Lyoko", "the group", or "the gang") is the name given to the group of main characters in Code Lyoko; Ulrich Stern, Yumi Ishiyama, Aelita Schaeffer, Jeremie Belpois, Odd Della Robbia, and later William Dunbar. The Lyoko Warriors battle the evil, multi-agent computer program named X.A.N.A. so that he does not gain control of Earth. They also try to gain more knowledge about Aeita, Franz Hopper, and X.A.N.A.. The Lyoko Warriors are constantly at odds with Sissi's group.
Their headquarters is located at the Factory, however Kadic Academy could also be considered as such.
Current members
Edit
The current incarnation consists of six junior high schoolchildren and a canine.
Temporary members and aides
Edit
Ad blocker interference detected!
Wikia is a free-to-use site that makes money from advertising. We have a modified experience for viewers using ad blockers

Wikia is not accessible if you've made further modifications. Remove the custom ad blocker rule(s) and the page will load as expected.