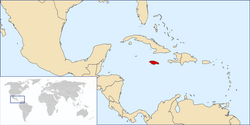 Officially the Commonwealth of Jamaica, is the 4th largest island nation of the Greater Antilles, 234 kilometers (145 mi) in length, up to 80 kilometers (50 mi) in width, and 10,990 square kilometers (4,240 sq mi) in area. It is situated in the Caribbean Sea, about 145 kilometers (90 mi) south of Cuba, and 191 kilometers (119 mi) west of Hispaniola, the island harbouring the nation-states of Haiti and the Dominican Republic. Jamaica is the 5th largest island nation in the Caribbean. The indigenous Arawakan-speaking Taíno name for the island was Xaymaca, meaning the "Land of Wood and Water" or the "Land of Springs."
Cities and Locations
Edit
Actors and crew born in Jamaica
Edit
Ad blocker interference detected!
Wikia is a free-to-use site that makes money from advertising. We have a modified experience for viewers using ad blockers

Wikia is not accessible if you've made further modifications. Remove the custom ad blocker rule(s) and the page will load as expected.