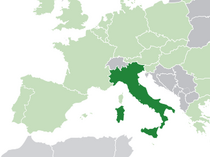 Officially the Italian Republic (Italian: Repubblica Italiana), is a unitary parliamentary republic in South-Central Europe. To the north, it borders France, Switzerland, Austria and Slovenia along the Alps. To the south, it consists of the entirety of the Italian Peninsula, Sicily, Sardinia–the two largest islands in the Mediterranean Sea–and many other smaller islands. The independent states of San Marino and the Vatican City are enclaves within Italy, while Campione d'Italia is an Italian exclave in Switzerland. The territory of Italy covers some 301,338 km2 (116,347 sq mi) and is influenced by a temperate seasonal climate. With 60.8 million inhabitants, it is the fifth most populous country in Europe, and the 23rd most populous in the world.
Cities and locations
Edit
Attractions
Edit
Actors and Crew born in Italy
Edit
Ad blocker interference detected!
Wikia is a free-to-use site that makes money from advertising. We have a modified experience for viewers using ad blockers

Wikia is not accessible if you've made further modifications. Remove the custom ad blocker rule(s) and the page will load as expected.