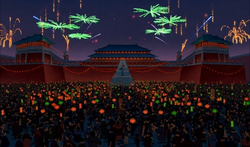 The Imperial City is the capital of China and serves as a location in Mulan.
The City is the location of the Emperor's Palace, also known as the Forbidden City. According to the film, one of the quickest ways to the Imperial City is to travel through a small mountain pass.
In the film, the Chinese people hold a celebration in the Imperial City to celebrate the defeat of the Huns. However, a small group of Huns had survived and secretly entered the city by hiding in a Chinese dragon puppet. Though the Emperor is captured by the Huns, Mulan and her friends managed to infiltrate the palace; while Ling, Yao and Chien-Po defeated the Huns and rescued the Emperor, Mulan distracted Shan Yu by revealing her identity as the soldier who destroyed his army. Enraged, he pursues her throughout the palace, causing significant damage to the ancient building in the process, before cornering her on the roof. She disarms him and Mushu launches a firework into him which sends him into the eastern watchtower; packed with fireworks and explosives, the tower and Shan Yu are destroyed in a fiery display of death, which also nearly kills Chi-Fu but unfortunately doesn't finish the job. Though the Emperor is a little miffed at the damage to his palace, he bows to Mulan in gratitude for her efforts and proceeds to honour her family with his personal crest and the Sword of Shan Yu. It is apparently rebuilt by the second film and continues to serve as the Emperor's residence.
Transformers: UniverseEdit
Ad blocker interference detected!
Wikia is a free-to-use site that makes money from advertising. We have a modified experience for viewers using ad blockers

Wikia is not accessible if you've made further modifications. Remove the custom ad blocker rule(s) and the page will load as expected.