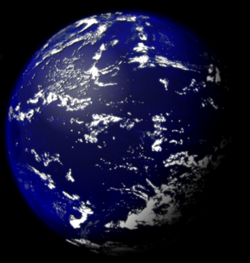 Ganymede is the seventh and largest moon of Jupiter, as well as the largest moon in the Solar System. It was terraformed in the 21st century by heating its original thick layer of ice to reveal a great seawater ocean underneath. With very little natural landforms, Ganymede is primarily used in the commercial fishing industry to harvest such animals as the Ganymede Rock Lobster and the endangered Ganymede Sea Rat.
The moon is considered on the outskirts of inhabited space and does not have access to many new technologies. Ganymede is modeled after Marseille, France.
Jet Black
Edit
Jet was born on Ganymede and worked as an officer of ISSP there.
Cowboy BebopEdit
Transformers: UniverseEdit