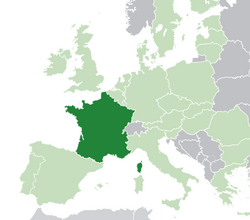 Officially the French Republic (French: République française), is a unitary semi-presidential republic in Western Europe with several overseas territories and islands. Metropolitan France extends from the Mediterranean Sea to the English Channel and the North Sea, and from the Rhine to the Atlantic Ocean. It is often referred to as l'Hexagone ("The Hexagon") because of the geometric shape of its territory. It is the largest country in Western Europe and the third-largest in Europe as a whole, and it possesses the second-largest exclusive economic zone in the world, covering 11,035,000 km2 (4,260,000 sq mi), just behind that of the United States.
131(b). Fashionistas
Cities and Locations
Edit
Attractions
Edit
Actors/Actresses and Crew born in France
Edit
Characters originating in France
Edit
Featherduster
Esmerelda (possibly)
Ad blocker interference detected!
Wikia is a free-to-use site that makes money from advertising. We have a modified experience for viewers using ad blockers

Wikia is not accessible if you've made further modifications. Remove the custom ad blocker rule(s) and the page will load as expected.