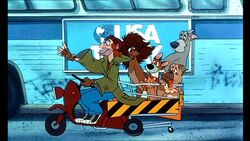 Fagin's Scooter is a scooter/shopping cart-hybrid owned by Fagin. It is equipped with a horn and light in the front. The cart, which is attached by means of wooden boards, is used as a way to carry passengers on board; mainly Dodger, Tito, Rita, Francis, Einstein, and recently Oliver and Jenny. 
In the film
Edit
Fagin used his scooter in the film to drive his dogs and Oliver, on the 1st of the 3 days he was given by Sykes to pay his debt to him, through traffic so as to find ways on how to earn or even steal money. Fagin tells Oliver and his dogs to get out and fetch for food while he tries to find money. Later on, after Jenny's been kidnapped by Sykes, Fagin uses his scooter to drive to Sykes' warehouse to rescue Oliver, Dodger, and the gang, who partially rescued Jenny. Fagin drives his friends away from Sykes' warehouse; hoping to lose Sykes, not before catches up with them in his limo. Fagin drives into a subway train station and a tunnel but Sykes, driving like a mad man, still pursues them. The scooter is later used by Tito while Fagin tries to rescue Jenny, who accidentally landed on Sykes' hood after his car bumped into the scooter. As a train approaches their way, Tito is able to drive everyone to safety on 1 of the cables of the Brooklyn Bridge. After Sykes' death; due to colliding his limo with the train, Tito drives everybody back down to safety. The next day, after celebrating Jenny's 8th birthday, Fagin drives his dog pals in his scooter, who are singing Why Should I Worry reprise, back home as the story comes an end.
Ad blocker interference detected!
Wikia is a free-to-use site that makes money from advertising. We have a modified experience for viewers using ad blockers

Wikia is not accessible if you've made further modifications. Remove the custom ad blocker rule(s) and the page will load as expected.