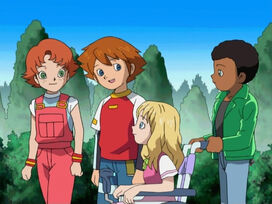 Chris's Gang is the small group that Chris founded. It has a lot of affect on Chuck's decisions, as he is Chris's grandfather.
Chris's Gang eventually merges with Yugi's Team.
Chris - Leader of the group; a boy who becomes Yugi's and Sonic's best friend and good friend of his companions.
Helen - One of Chris' closest friends, and one of the few who readily accept Sonic and his friends from the start.
Frances - One of Chris' friends at school. She is notable for wearing deep salmon pinkish-red overalls.
Danny - One of Chris' friends at school who occasionally helps Sonic.
Ad blocker interference detected!
Wikia is a free-to-use site that makes money from advertising. We have a modified experience for viewers using ad blockers

Wikia is not accessible if you've made further modifications. Remove the custom ad blocker rule(s) and the page will load as expected.