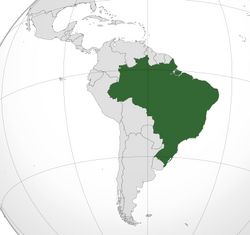 Brazil (Portuguese: Brasil, officially the Federative Republic of Brazil. (Portuguese: República Federativa do Brasil, listen is the largest country in South America. It is the world's fifth largest country, both by geographical area and by population with over 192 million people. It is the largest Lusophone country in the world, and the only one in the Americas.
Bounded by the Atlantic Ocean on the east, Brazil has a coastline of 7,491 km (4,655 mi). It is bordered on the north by Venezuela, Guyana, Suriname and the French overseas region of French Guiana; on the northwest by Colombia; on the west by Bolivia and Peru; on the southwest by Argentina and Paraguay and on the south by Uruguay. Numerous archipelagos form part of Brazilian territory, such as Fernando de Noronha, Rocas Atoll, Saint Peter and Paul Rocks, and Trindade and Martim Vaz. It borders all other South American countries except Ecuador and Chile.
Laff-A-LympicsEdit
A rubber rafting race on the Amazon River was held there for the Laff-A-Lympics. (South America and Transylvania)
The Scooby-Doo Show
Edit
Season three
Edit
The gang was flying over the Brazilian jungle on their way to Rio de Janeiro when their plane went down and they encountered the Jaguaro. (Jeepers, It's the Jaguaro!)
Scooby-Doo! (DC Comics
Edit
The gang explored the Amazon Jungle and met up with a Lizard Man. (Quit Buggin' Me)
Chill Out, Scooby-Doo!
Edit
Fred Jones ended up in what looked like the Amazon jungle after he took the wrong plane instead of returning to Paris with the others.
Appearances
Edit
102(a). Quit Buggin' Me
Other continuities
Edit
Scooby-Doo! Mystery Incorporated
Edit
Season one
Edit
Rick Spartan was on an adventure in the Amazon when he first encountered the Headless Horror. (Attack Of The Headless Horror)
Films and Shows
Edit
Companies
Edit
Actors and Crew born in Brazil
Edit
Ad blocker interference detected!
Wikia is a free-to-use site that makes money from advertising. We have a modified experience for viewers using ad blockers

Wikia is not accessible if you've made further modifications. Remove the custom ad blocker rule(s) and the page will load as expected.