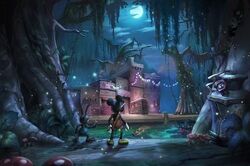 Bog Easy is a location in Epic Mickey, based on New Orleans Square.
Geography
Edit
Located in the northwest of the Cartoon Wasteland, Bog Easy is a dark and gloomy swamp town. The entrance of the area is a boat dock near the sinking remains of Madame Medusa's riverboat from The Rescuers. Traversing a series of bridges across the swamp, you find the Bog Easy town, which features a bookstore, a bell said to keep evil spirits away, and the gateway to Lonesome Manor amongst its New Orleans-inspired architecture. To the west of town is another series of docks leading to the Swamp Shack (based on the shack from Pirates of the Caribbean), home of the local cowardly bull Louis. Besides the regular locals, the Lonesome Ghosts have settled in the town after the Manor's pipe organ broke and angrily venting powerful steam since.
Residents
Edit
"Bog Easy" is a pun on "Big Easy", another name for New Orleans.
Ad blocker interference detected!
Wikia is a free-to-use site that makes money from advertising. We have a modified experience for viewers using ad blockers

Wikia is not accessible if you've made further modifications. Remove the custom ad blocker rule(s) and the page will load as expected.