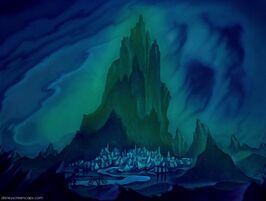 Bald Mountain is actually based on a real mountain in Slovenia, Mt. Triglav. It is where the "supernatural" dwell as well as the "Black God" himself.
Appearances
Edit
On Walpurgis Night, the tip of the dark and morose mountain is the great demon, Chernabog. There he summons his minions to his service at Bald Mountain. The insides of the mountain become a fiery volcano as he flings his minions within.
Just as he begins to continue his reign of pure evil, the light of day sends the Demons back to where they once were and Chernabog will always survive. Bald Mountain has always been known as the source of darkness is the Disney Franchise since the sequence in Fantasia.